When I first began teaching seven years ago, I wondered how teachers ever lived before Google. Now, I wonder how I ever survived without YouTube and Pinterest! I am so incredibly grateful to be able to see all of the great work that is happening out there and begin to incorporate it into my class!
Enter this week's blow-my-socks-off YouTube video from Madeline Noonan, a teacher in Oakland, CA. I first found out about her videos on Caffeinated Conclusions~ it is a great 3rd grade blog you can find here: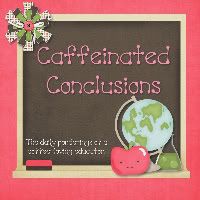 She had a video posted from Ms. Noonan
all about transitions
, which got me hooked and I began searching for Ms. Noonan on YouTube to find more :)
Enter this amazing Morning Meeting pick-me-up video!
I love it!
A few things I am pondering after watching this video and thinking about our traditional Morning Meeting in my class:
It is AWESOME to find a MM specifically laid out for upper elementary and community building <3
Love the pace~ seems much faster and the back-and-forth keeps up interest
All kids are engaged and thinking, whether they are voicing their thoughts or not
Kid-led~ I try to get mine student-led as soon as possible in the school year and I love all opportunities like this for them to practice leadership and responsibility roles with their peers in class
Our current MM routine suddenly looks veeeeeeeery boooooooring!!
Our MM goes as follows:
Our MM Leader goes over the Class Rules and motions with the class
We pass a ball around greeting each other
There is an opportunity to share "Good News/Bad News"~ if kids have questions, the sharer can call on three people, then they pass the ball to another person until time runs out
Several things have been weighing on my mind about this:
It's very routine~ almost too routine, and in this class of 2/3 boys, that can be lethal
Everyone does not have the chance to become engaged, so the opportunity for boredom/behavior problems arise
My goal is to start off the day on a fresh and positive note~ I just don't feel in my heart of hearts that this current setup allows for that.
Here is what I am contemplating:
Starting with the class rules is something I like and will continue to do~ it gets us all on the same page and everyone is engaged
This piece really intrigued me~ I like the focus on the school day and creating that sense of duty and urgency to the work of the day
I am contemplating combining my greetings & feelings. This is mostly for time's sake, but I think we can do these two parts together successfully.... we'll see and I will report back!
If there is time, then Good News/Bad News~ it's an old standby and kids adore it, so it will stay for now (this may get revamped next year)
Word of the Day is ah-ma-zing! See it used (very well!) in the above video from Caffeinated Conclusions
I think I may intro this as soon as possible, it bits and pieces. I will update you along the way to see if there are any changes to the system (I'm sure there will be!) and what they are. Wish me luck :)