Happy 4th of July!!
Before you start to celebrate, be sure to head over to
We Read, We Blog, We Teach
to discuss Chapter 2 of The Daily 5 hosted by ME! I made a video to take you through my favorite quotes of this second chapter called "From Management to Principled Habits".
Then, there is the most exciting blog hop happening that I am so thrilled to be a part of! It's a Mystery Blog Hop hosted by the sweet and lovely Christi at
Ms. Fultz's Corner
! Get your smartphone ready to scan some QR Codes that will send you all over blogland to some fantastic resources!
Mine is a Pinterest favorite that was one of my first posts, so I thought it would be good to bring it back up :) Scan it to begin the hop!
Speaking of QR Codes, I am in the process of creating a monthly newsletter! More info on this new venture soon, but if you'd like to sign up now, see the sidebar, or click/scan below: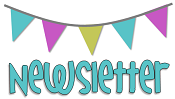 Last, since I love this holiday, you can grab a fun 4th of July Chevron Pennant Banner from my
TpT Store
for FREE for all of your Independence Day festivities :)
Have a wonderful day of celebrating!