I'm knee-deep in summer relaxation, so while curriculum is on the back-burner, I always love spending some lazy days with stickers and planning.
I am a huge fan of the
Erin Condren Teacher Planner
(watch my walkthrough
HERE
), and have several items in my
Etsy Shop
to help you personalize and adjust the pages to make them your own. Click on any photo to be taken to the listing in my store.
Weekly & Monthly Numbers
One of the first items I listed in my store were weekly numbers to fit in the top corner of each week. It's a simple but uniform way to make those numbers pop. I have one set that runs for
weeks 1-40
, but there is also a new version if your school is on
quarters: 1-10, four times
.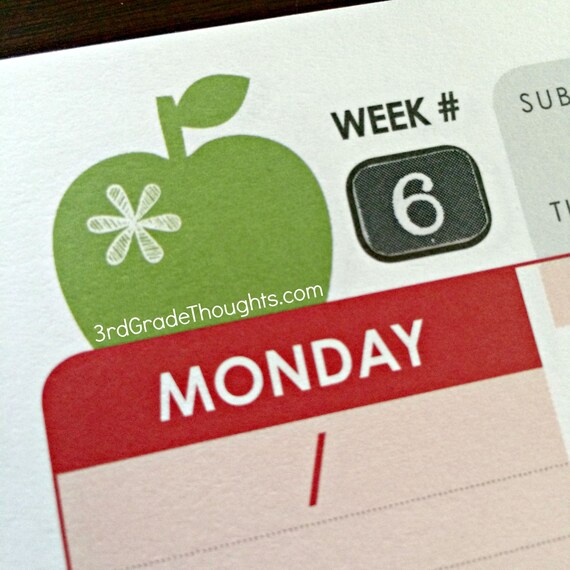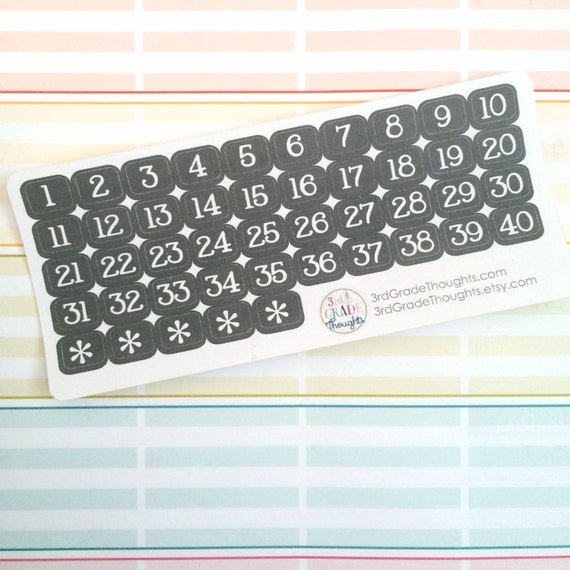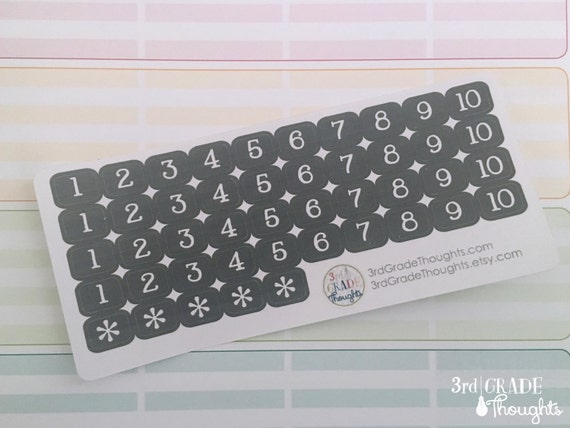 I've also added some
new monthly numbers
to coordinate with this year's gemstone theme. These are the same size as the weekly numbers, so they show up a bit more than the ones that come with the planner. The monthly calendars are some of my most-viewed pages throughout the year, so I like the bigger numbers for my teacher-tired eyes!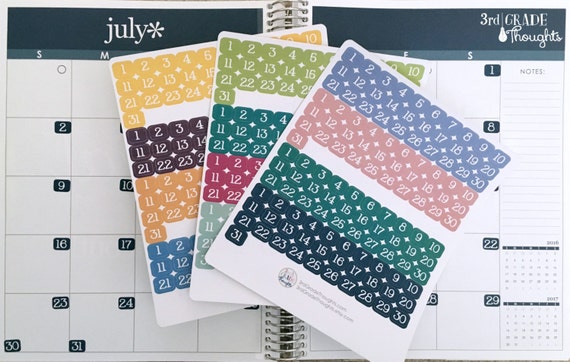 Happy Birthday Pages
These are some of the most useful pages, and I think the possibilities for this spread are endless!
While they are originally set up to track birthdays throughout the year, the lines under each month mean you can use these pages for anything.
I have several options below, from
dates
, to
goals
, to
supplies
, to
professional development
: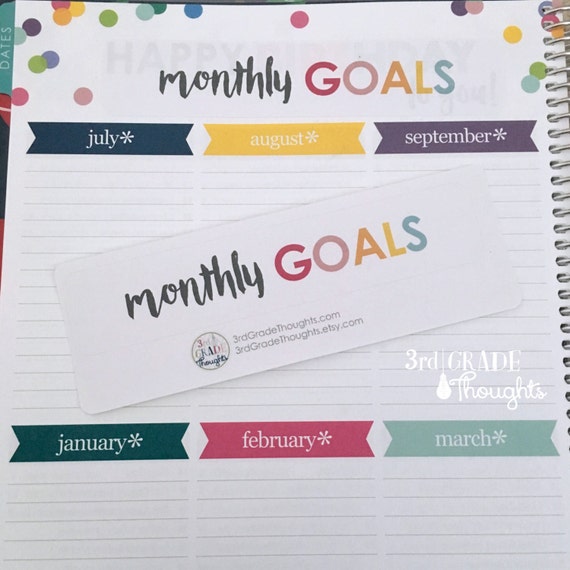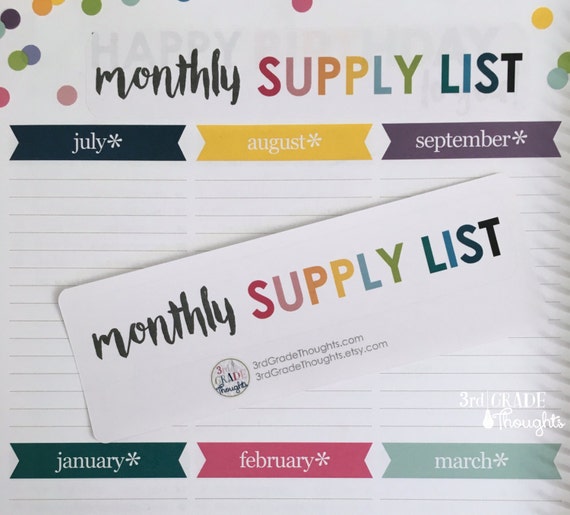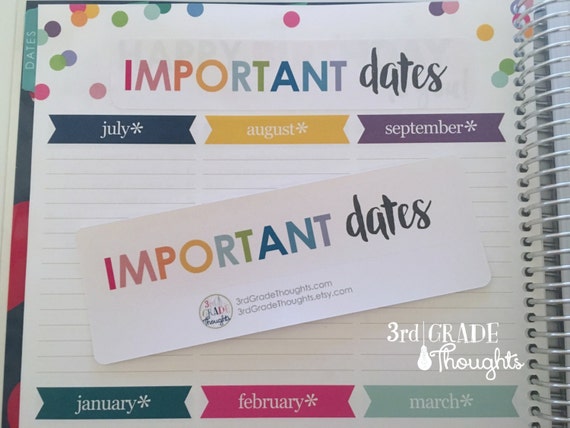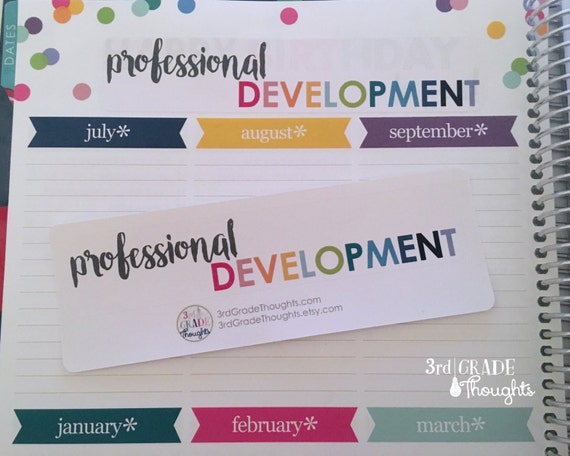 Absentee Log
I have found this spread to be a great way to track
communication with parents
or students. I will track our calls and chats (anything non-email) and check if there was follow-up. I am liking the idea of using these pages as
student communication
this year, too. Tracking positive phone calls and/or notes home is a habit I try to implement at the beginning of the year, but by second trimester, it's hard to keep up. I'm looking forward to recording on these pages to keep me motivated all year long.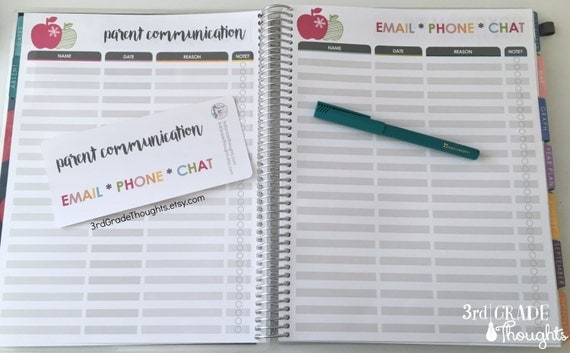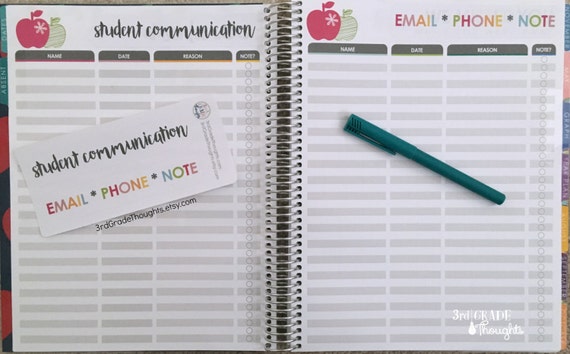 Yearly Planning With Stickers
I have updated all of my planning stickers to coordinate with either the 2015-2016 planners or the new 2016-2017 planners. One of the fun ways to get started with them is to set up the Plan Your Year page. I love being able to jot down the scope and sequence of each subject throughout the year.
Granted, these stickers are all I have done when it comes to thinking about next year, but it's only June, so I'm okay with that!
Be sure to follow me on
Instagram
and
Etsy
to see when new designs are listed. While I'm not taking custom orders at this time, I am always open to ideas and suggestions.
To see any of these stickers and plenty, plenty more, be sure to head to my Etsy Shop:
http://3rd.gr/Etsy_shop
I hope these gave you some ideas to help continue to make your
Erin Condren Teacher Planner
your own! If you would like $10 off of your first order, be sure to sign up
HERE
.
***And, in super-big and exciting news (if the yearly glance didn't tip you off), I am heading back to the classroom FULL TIME next year! I will no longer be job-sharing, but be back to teaching my thirdsters all day long. My sweet daughter will be coming with me to Kindergarten in the same building, so I am extra excited to see the adventures that next year brings. Thanks for your continued support and I hope your summer is off to a relaxing start!